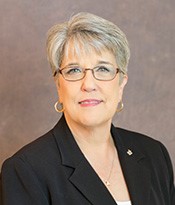 Nearing her 25th anniversary as a member of the Austin Bank team, this month's Star has experience in several departments of the Bank. In her tenure, she has become extremely knowledgeable of the tasks, workflows and systems at Austin Bank, often working behind the scenes to help make those processes easier for others. This dedication to her job along with high ethical standards, support of her teammates and commitment to the Austin Bank core values have earned Pat Davis, SVP/Retail Market Manager for the Piney Woods Region, recognition as the May Star of the Month.
Pat began her banking career at First National Bank, Carthage in 1978 where she worked as Teller, Head Teller, Customer Service Representative and in Bookkeeping. She later went to work for First State Bank, Timpson in 1989 and remained through the transition to Austin Bank in 1996. In addition to previously mentioned roles, she went on to work as a Loan Assistant and then a Lending Officer before moving to become a Senior Operations Officer in 2004 and serving as a Branch Manager and Location President before assuming her current role. The experience she has gained by serving in critical parts of the bank and holding different roles in different departments displays her flexibility and willingness to adapt to new situations. She is considered a subject matter expert in the eyes of her coworkers and when there is a question Pat is often one of the first to be contacted for help. If she does not know the answer, she is not afraid to ask questions or go to others for help. In addition to her duties as Retail Market Manager, Pat helps cover each of her locations when they find themselves short-staffed, is the BPM Administrator serving as primary contact for all updates to the new account system and serves as the intermediary employee for all Deluxe Check Products and Services.
Pat and her husband, Jerry, live at Lake Murvaul just outside of Carthage. They have two grown children and five grandchildren who are their delight. They enjoy traveling in their RV with their third child – a rat terrier named Winston. Pat also loves embroidery and quilting and has donated many quilts to fundraising efforts and non-profit organizations. She even made all of her grandchildren quilts for Christmas last year. Pat and Jerry are active members of Cedar Grove Baptist Church.
"Pat is a loyal, dedicated and caring employee. She is so appreciative of her time and experience here at Austin Bank as well as her banking family."
Linda Douglas, SEVP/Chief Retail Officer, Jacksonville
"Pat is one of the most honest and trustworthy people I know. She is dedicated to Austin Bank and her example as a leader is demonstrated by her willingness to help in every area of the Bank. Pat is 'one of a kind' and a great example of everything an Austin Bank Star should be. I am lucky to count her a coworker and an amazing friend."
Kelly Tunnell, SVP/Retail Market Manager, Van
"Pat is an excellent example of Austin Bank's core values. She has held many titles in her years with the Bank, working hard to serve her customer and her employer – always striving for excellence. Pat is passionate about her job and an exceptional leader and friend who is always willing to help others."
Donna Higginbotham, AVP/Retail Office Manager, Timpson
"Pat was the first Austin Bank employee I was introduced to. After hearing about her history with the Bank and how much dedication she has to the company, I knew this was a place I would love to work. Her knowledge of BPM and the account opening process has helped myself, and I am sure countless others, through many difficult situations."
Donna McKissick, Retail Office Manager, Garrison