Scholarship Opportunities for Local Students
As a community bank, Austin Bank is dedicated to providing opportunities for local students to continue their education at a university, college, trade school or vocational school. Applications are delivered to the high school counselors at the schools listed below in the beginning of November. Community applicants must pick up applications from their high school counselors. Applications are not posted online. Customer applicants may request an application from their local banking office. All applications are due the last part of February (specific date may be found on the application). Winners will be notified at their school's award presentation in May.
Scholarship Eligibility Requirements & Criteria
Winners are selected based on scholastic achievement, extracurricular activity involvement, leadership qualities and an essay contest. The Austin Bank scholarship funds are for one year only and are not renewable. Students must have at least a 2.5 GPA on a 4.0 scale (or equivalent). For community scholarships, students must be a graduating senior from one of the following schools:
All Saints Episcopal School
Big Sandy High School
Bishop T.K. Gorman
Brook Hill School
Bullard High School
Central Heights High School
Chapel Hill High School
Christian Heritage School of Longview
Cleveland High School
Cumberland Academy High School
Early College High School (TISD)
Frankston High School
Garrison High School
Gilmer High School
Gladewater High School
Good Shepherd School
Grace Community High School
Grand Saline High School
Harmony High School
Hudson High School
Jacksonville High School
Kilgore High School
LaPoynor High School
Lindale High School
Longview Christian Academy
Longview Christian School
Longview High School
Lufkin High School
Marshall High School
Martinsville High School
Nacogdoches High School
Neches High School
Palestine High School
Pine Tree High School
Rains High School
Regents Academy
Rusk High School
Sabine High School
Spring Hill High School
Tarkington High School
Timpson High School
Trinity School of Texas
Troup High School
Tyler Classical Academy
Tyler High School
Tyler Legacy High School
Union Grove High School
Union Hill High School
Van High School
Westwood High School
Whitehouse High School
For the customer scholarship, the student must be a graduating senior and not attend one of the above listed schools. Student or guardian must have a relationship of one year or longer with the Bank. It may be a loan or deposit relationship.
2021 Scholarship Winners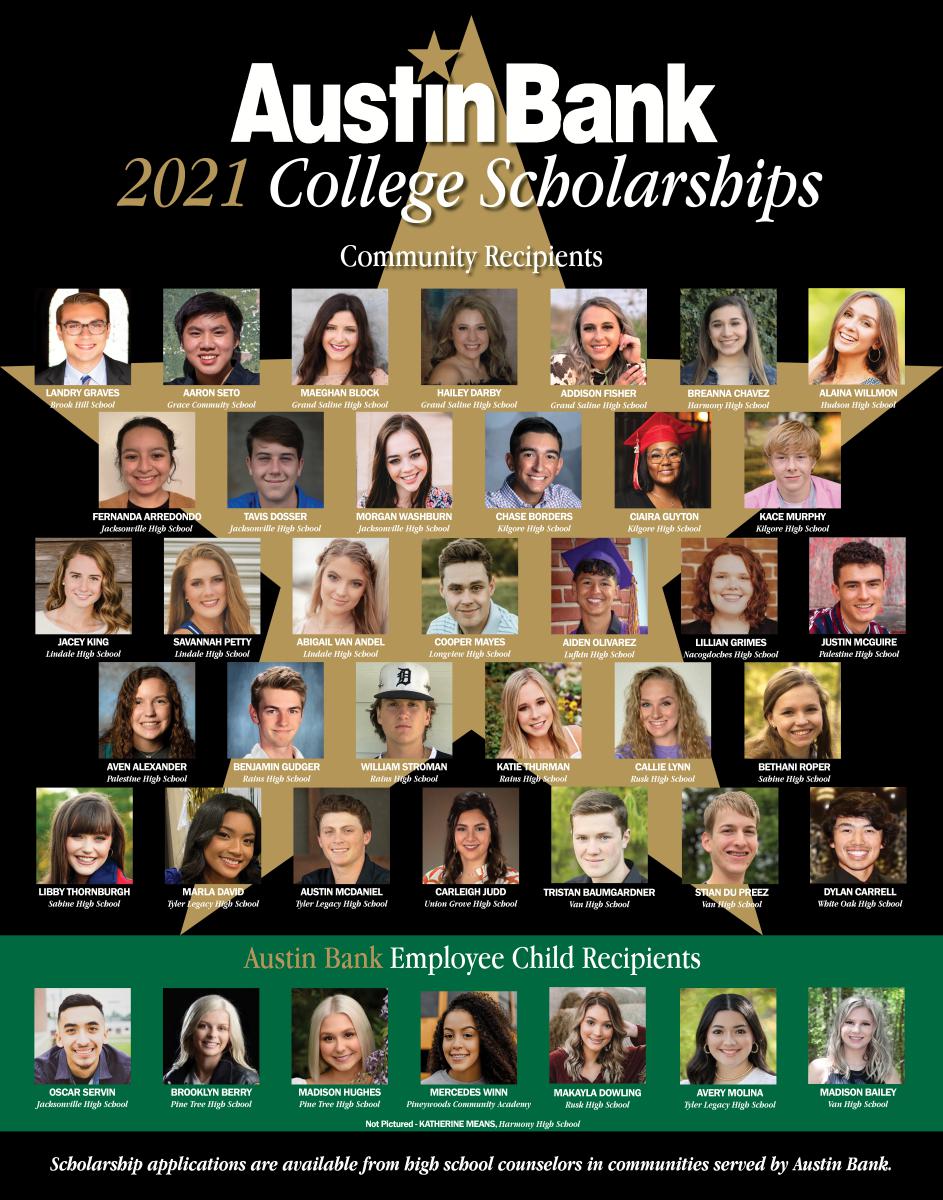 Landry Graves, Brook Hill School
Aaron Seto, Grace Community HS
Maeghan Block, Grand Saline HS
Hailey Darby, Grand Saline HS
Addison Fisher, Grand Saline HS
Breanna Chavez, Harmony HS
Alaina Willmon, Hudson HS
Fernanda Arredondo, Jacksonville HS
Tavis Dosser, Jacksonville HS
Morgan Washburn, Jacksonville HS
Chase Borders, Kilgore HS
Ciaira Guyton, Kilgore HS
Kace Murphy, Kilgore HS
Jacey King, Lindale HS
Savannah Petty, Lindale HS
Abigail Van Andel, Lindale HS
Cooper Mayes, Longview HS
Aiden Olivarez, Lufkin HS
Lillian Grimes, Nacogdoches HS
Justin McGuire, Palestine HS
Aven Alexander, Palestine HS
Benjamin Gudger, Rains HS
William Stroman, Rains HS
Katie Thurman, Rains HS
Callie Lynn, Rusk HS
Bethani Roper, Sabine HS
Libby Thornburgh, Sabine HS
Marla David, Tyler Legacy HS
Austin McDaniel, Tyler Legacy HS
Carleigh Judd, Union Grove HS
Tristan Baumgardner, Van HS
Stian du Preez, Van HS
Dylan Carrell, White Oak HS
Employee Child Recipients:
Katherine Means, Harmony HS
Oscar Servin, Jacksonville HS
Brooklyn Berry, Pine Tree HS
Madison Hughes, Pine Tree HS
Mercedes Winn, Pineywoods Community Academy
Makayla Dowling, Rusk HS
Avery Molina, Tyler Legacy HS
Madison Bailey, Van HS