Austin Bank - Fraud Prevention
The security of our customers is a priority for Austin Bank. We believe the more you know, the better prepared you will be to recognize and prevent fraudulent activity.
Some things to remember . . .
Do not trust Caller ID - it can be faked.

Technology has made it easy for scammers to fake Caller ID information. They often do this so as to appear they are calling from legitimate sources - i.e. the Austin Bank Customer Care Center or Fraud Department.
If someone calls you asking for personal information, hang up.
If you feel the call may be authentic, call back to a number you know is correct.

For calls relating to debit card fraud, these are the numbers that are safe for you to call into:
Text messages may also be faked to appear valid.

Austin Bank does offer Fraud Text alerts as a convenient alternative to phone calls.
These faked text messages include a call back number that is very similar to the Austin Bank Fraud Center number, but is not exact.
If you suspect fraud on your debit card, or receive a message alerting you to potential fraud, these are the only numbers to call:
When calling in, DO NOT provide sensitive information including your card number, PIN or CVC code (3 digit number on the back of your card). Austin Bank will never ask for this information.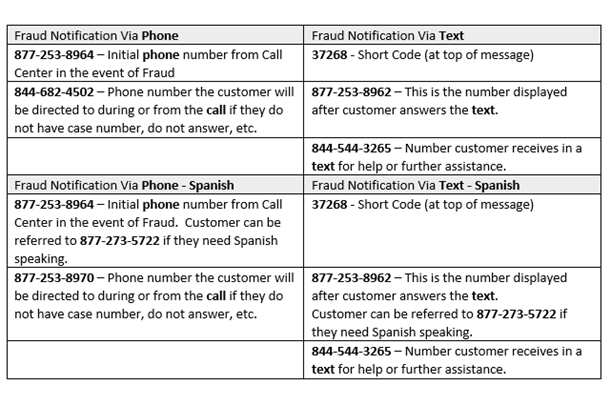 Check out this helpful resource from the Federal Trade Commission - 10 Things You Can Do to Avoid Fraud.
Protecting Yourself Against Email Fraud
Email and Internet Fraud take advantage of the Internet's unique ability to send email messages worldwide in seconds or post website information that is accessible from anywhere. Identity theft from online scams is one of the fastest growing crimes today.
You should be especially vigilant to these:
Phishing
Pharming
Malware or "Spyware"
Click here to learn more about schemes and what you can do to protect yourself.
Here are some basic safety tips you can implement immediately:
Password - Experts advise a combination of letters and numbers
Virus Protection – Your computer's anti-virus software should be up-to-date.
Spyware - Anti-spyware programs are readily available. Every computer connected to the Internet should have anti-spyware software installed and updated regularly.
Additional Security and Fraud Information
Internet Fraud - click here to view our brochure on Preventing Identity Theft
ATM Safety - click here to view our ATM Safety brochure
8 Tips for Banking Online Safely and 8 Tips to be More Cybersecure (provided by the Texas Department of Banking and Texas Bankers Association)
Remember: Austin Bank will never send unsolicited emails asking you to verify personal or account information.