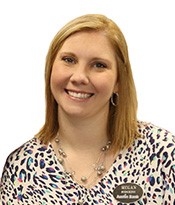 Nominations for this month's Star all echoed the same sentiment – "she consistently goes above and beyond." With a positive attitude and a strong commitment to her coworkers, she never hesitates to take on additional tasks in an effort to help those around her. For these reasons, we are proud to recognize Megan Hodgkins, Loan Assistant in Longview Greggton, as our June Star of the Month.
Megan is a long-time employee of the Bank, starting as a Teller in the Timpson office in 2010. In 2011, she moved into the role of Loan Assistant, first serving in Timpson and then moving to work for our Longview lenders. Sharon Denton, VP/Relationship Manager in Longview Greggton, shares, "Megan is an all-around super star employee. Her ability to take on any task without hesitation is fantastic. Her kindness and wit is contagious." Megan serves as the Regional trainer for loan assistants, on the Wire Committee and has been providing assistance to new employees in the Cleveland office – Lowell Little and Daniel Wolfson. She took on those duties while maintaining the responsibilities she already had. Lowell, EVP/Regional President in Cleveland, adds, "Megan is extremely knowledgeable and is always willing to share that knowledge with a fantastic attitude. Megan partners extremely well, communicates well, is professional with customers and demonstrates a passion for what she does."
Megan and her husband, Zachary, live in Hallsville with their daughters, Paige and Brooklyn. She enjoys being a soccer mom and watching her girls play. When not busy with the girls or their golden retriever, Pete, Megan likes to spend time at her family farm in Garrison.
"Megan is an integral part of our lending team. She contributes on so many levels both here in Longview and at other branches across the entire bank. When I think of Megan, I think of her teamwork and dedication."
Natalie Lynch, EVP/Regional President, Longview Oak Forest
"We truly appreciate what Megan has done for us and the Cleveland office. Her ability to multi-task and prioritize, always with the customer's best interest in mind, helps all she works beside."
Lowell Little, EVP/Regional President, Cleveland
"It has been a privilege working alongside Megan. Her hard work and helpful attitude make her an amazing role model. She is well deserving of this award."
Morgan Nelson, AVP/Retail Office Manager, Longview Greggton