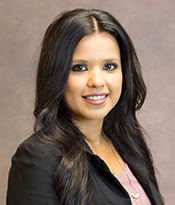 This month's Star is a member of our Human Resources (HR) team. Coming to the Bank in May of 2017, she brought with her several years of recruiting experience from a local call center. Consistently exhibiting the utmost in professionalism, we are proud to recognize Julisa Trujillo, Operations Officer and HR Specialist/Jr. Recruiter, as our July Star of the Month.
Julisa's personality and professionalism were the catalyst for her move into human resources and recruiting. After years at the Convergys call center, steadily working her way up, she was moved to recruiting without even applying for the job. Here at Austin Bank, she has worked in many roles within the HR department and now assists with recruiting and hiring applicants as well as serving as a backup for payroll processing. "Julisa is ready and willing to do whatever is asked of her. She works hard and is very respectful of others," shares Pam Pate, SVP/Human Resources Team. Over the past several months, she has been handling payroll duties to cover for others in the department who have been out on leave. All of this has been done while managing her own responsibilities recruiting, posting jobs and managing federal reporting duties.
She and her husband, Cris Galan, live in Rusk with their two children, Nataly and Carlos. They spend lots of time with their children's extracurricular activities and sports, and enjoy time spent on the lake in the summers. The family attends Our Lady of Sorrows Catholic Church in Jacksonville.
Julisa is a graduate of Jacksonville High School and has completed the Jacksonville Leadership Institution sponsored by the Jacksonville Chamber of Commerce.
"Julisa is a prime example of being a team player. She is a true example of professionalism and the future for her at Austin Bank looks bright! We are lucky to have such a true Star as part of our Austin Bank family."
Lynn Littlejohn, SEVP/Director of Human Resources, Jacksonville
"Julisa is such a pleasure to work with. She is professional, respectful and has proven to have an impressive work ethic. She represents Austin Bank and our HR department in an exemplary way."
Pam Pate, SVP/Human Resources Team, Jacksonville
"Julisa is a team player who takes on many responsibilities and always gets the job done."
Virginia DeLuna, HR Support Assistant, Jacksonville
"Julisa is sweet, kind and willing to step in to help whenever she is needed. Do not let her quiet demeanor or short stature fool you, she is sharp, strong and really intelligent."
Shaunna Nolen, VP/Education and Training, Jacksonville