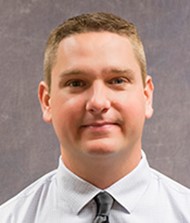 Austin Bank's reliance on technology and its development brings to light the importance of its Information Technology (IT) department. Though IT may often go overlooked or unnoticed, without this team to keep everything running smoothly, Austin Bank could not operate in today's business climate. This month we are pleased to recognize a representative from IT as our February Star. Congratulations, Seth New, System Administrator, on this honor based upon
nominations from your peers.
Seth joined the Austin Bank team in 2015 bringing with him 16 years of previous IT experience. In his role as a System Administrator, Seth currently manages the Austin Bank Help Desk (providing tech support for Bank employees) as well as working with teller systems, online
banking products and network security. Seth's patience, positive attitude and attention to detail endear coworkers to him as he helps them through frustrating times with technology. Jan Tennison, Executive Administrative Officer, shares that she has called on Seth many times to help her with technology at the Austin's home as they transitioned to working from home during the pandemic. Despite having even bothered him on his lunch hour, "he has never once said he could not help me." Jan continues, "He is always very patient, working to solve the issues, even when I used the wrong terms in explaining what was happening. He has a very positive attitude and is a joy to work with."
Seth and his wife, Emily, live in White Oak with their four children – Bryce, Sadie, Ethan and Rowen. He loves carpentry and building things, even building their house himself. While he also enjoys camping, fishing and collecting arrowheads, being a dad is his greatest passion. The family attends New Beginnings Baptist Church in Longview where Seth volunteers his time helping with the production department and other ministries.

"Seth has the experience and knowledge to be very good at the technical aspects of his job, but at the same time he can take a
stressful situation and instill calm and confidence in the employee that their problem has his absolute focus and will be resolved to their liking – a unique trait. He is dependable, available, has a sense of urgency and willingness to help with every issue presented to him. I wish I could clone him."
John Ory, SEVP/Chief Operations Officer, Longview Greggton
"Seth is a very essential part of our IT Team, not only for what he can do, but for the ideas and perspective he brings. He does not shy away from any challenge and I am very glad to have him with us."
John Orr, SVP/Chief Information Officer, Longview Greggton
"Seth treats people the way he would like to be treated. He is an asset to our department."
Jeff Sowell, VP/Network Support Manager, Whitehouse
"Seth is our go-to person here at the Help Desk, and we are very lucky to have him. His calm, knowledgable approach to problem solving is always appreciated."
Cory Wishert, Computer Support Specialist, Longview Greggton