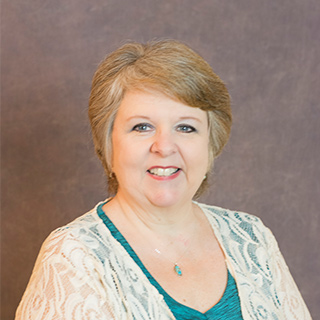 Coordinating all of the details needed to close a mortgage loan requires the ability to juggle multiple responsibilities and manage timelines appropriately. With several moving parts and many different players, there are always tasks requiring your attention. Nominated for her ability to provide excellent service to her customers – the Bank's lenders and loan assistants – while maintaining a positive and helpful attitude in this often hectic environment, we are proud to recognize Janet Schmidt, Mortgage Specialist, as our October Star of the Month.
Janet has 28 years of banking experience, which began right here at Austin Bank. She came to work for the Bank in 1993 as a Teller and stayed until 2000. Following a break in service where she worked at Capital One, Janet returned to Austin Bank in 2011 to work as a Teller in the Tyler South office. She then moved to the Central Loan Document department as a Loan Document Specialist in 2012 before assuming her current role in 2015. "Janet provides extraordinary customer service to the loan officers and assistants," shares Katie Branton, VP/In-House Mortgage Department Supervisor. "They continuously compliment her, mentioning her kindness, patience and knowledge."
Janet and her husband, Richard, live in Whitehouse with their new Havanese puppy, Max. They have two married daughters and two grandchildren – Liliana (Lily) and Jameson. Janet enjoys long weekends with her husband and spending time with her children and grandchildren camping, in the mountains of Colorado or at the beach. It was also reported that Janet loves the music group Queen and Freddie Mercury.
"Janet is a cornerstone of our Real Estate Specialist team! She is wonderful to work with and willing to go the extra mile to help her teammates when they are out of the Bank or overwhelmed with their task load. I am proud to have her on my team and excited she has been recognized as the star she is!"
Lora Hammond, SVP/CLD, Loan Operations and Mortgage Manager, Whitehouse
"Janet is an awesome person to work with – ready and willing to help anyone who needs it. Despite the overwhelming nature of our department, she always handles herself professionally. I am so thankful to call her my friend and coworker."
Katie Branton, VP/In-House Mortgage Department Supervisor, Whitehouse
"Janet is an absolute pleasure to work with. She is kind, compassionate and always willing to help others."
Misty Wilson, HMDA Assistant, Whitehouse