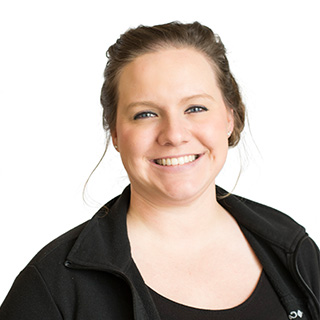 Dedication is "an exceedingly strong feeling of loyalty and support for someone or something." Any successful business must have dedicated employees who are concerned with the overall good of the company and understand what is best for everyone. Then, go out and strive to make that happen daily. This dedication is a required characteristic of those recognized as Austin Bank Stars. Repeatedly mentioned throughout this month's Star nomination were situations that demonstrated her commitment and loyalty to the Bank. We are proud to
introduce Courtney Patterson, Loan Document Specialist in our Central Loan Department (CLD), as our July Star of the Month.
Working now as a real estate processor in the Bank's Central Loan Department, Courtney originally joined the Austin Bank family as a Customer Service Representative in 2016. She moved to CLD in 2018 as a non-real estate specialist before moving to her current role as a real estate processor in 2021. Courtney's supervisors praise her willingness to embrace change. For example, when the Paycheck Protection Program loans began in 2020. Rather than seeing them as a challenge, she saw an opportunity to step up to help the company and her coworkers succeed while learning something new. Always wanting to be helpful, Courtney often sacrificed personal time to work through all of the loans that had to be processed.
Another notable attribute of dedicated employees is that they endeavor to create a more productive work environment. Maintaining calm under pressure, Courtney is quick to offer help in any way she can. She serves as a helpful resource to those around her and has been
instrumental in helping to train new processors as they come into the department.
Courtney and her husband, Josh, live in Whitehouse with their two children – Winston, age 4, and Waylon, age 2. They also have two pets, Zeke (who has been known to stalk the neighbors through the privacy fence) and Ruby Sue. They enjoy camping and riding four wheelers. Though originally from Ann Arbor, Michigan, Courtney is now a true Texas transplant and enjoys rooting for the Dallas Cowboys, Texas Rangers and UT Longhorns. The family attends Pleasant Hill Baptist Church in Tyler.

"I am proud to have Courtney on our team in CLD. She is a hardworking, dedicated employee who strives to learn new tasks and is always willing to help."
Lora Hammond, SVP/CLD, Loan Operations and Mortgage Manager, Whitehouse
"Courtney is an extremely reliable and hardworking employee! She is a pleasure to have on the CLD team."
Kenny Stuth, VP/CLD Assistant Manager, Whitehouse