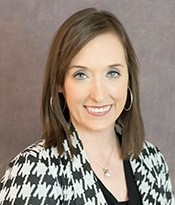 Follow-through (noun): the completion of a motion, as in the stroke of a tennis racket. The portion of such a motion after the ball has been hit. The act of continuing a
plan, project, scheme or the like to its completion.
A simple notion - follow-through - however, not easily achieved. Often when we realize what it will actually take to get the job done, we step back and leave the task unfinished. This is not the case with our March Star, and many shared their praise of her integrity and commitment to helping others in their nominations of
Jodie Ham, Loan Assistant in Nacogdoches. And it is for this commitment to her customers and coworkers that we are proud to recognize Jodie as the March Star of the Month.
Jodie joined the Austin Bank team in 2007 as a Teller before transitioning to a Teller Operations Supervisor in 2012. Following a brief time away from the Bank, she returned in 2014 as a Loan Assistant. Her knowledge of both the Retail and Loan departments elevates the level of service she is able to provide. She often receives compliments from customers because they know if they ask Jodie for something, it will get done. Sharing her knowledge with others, Jodie serves as a trainer for new loan assistants in the region, and served as a mentor to staff in the Cleveland office when it was opened. A voice of calm in a very busy office, Jodie is able to maintain a positive attitude as she helps both customers and coworkers.
Jodie and her husband, Chris, live in Cushing with their son, Bryant. A longtime resident, she is a graduate of Cushing High School and earned degrees in accounting from both Angelina College and Stephen F. Austin State University. She enjoys traveling with her family, shopping and softball. Jodie is active in her community coaching her son's baseball team and then serving as assistant coach. The family attends Bethany Baptist Church in Cushing.

"Jodie is such a great asset to our team! Clients rely on Jodie because they know she will always get the job done . . . regardless of which department the task may be related to. Jodie will see it through with a smile."
Francis Spruiell, EVP/Regional President, Nacogdoches
"Jodie is a team player! She always has an upbeat, positive attitude and is willing to help whenever needed. She genuinely cares about the success of the Bank and her coworkers."
Tasha Childress, SVP/Retail Market Manager, Cleveland
"Jodie is a great asset to our loan department. She is always willing to assist anywhere she is needed. She is not only a go-to for employees, but customers as well."
Lisa Hale, AVP/Mortgage Originator, Nacogdoches