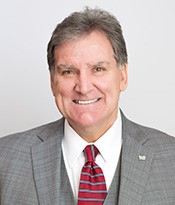 Daniel Goleman, author of Emotional Intelligence, shares that positive practices have been found to increase productivity and organizational performance in the workplace. He says, "Leaders with strengths in these competencies – including coach and mentor, teamwork and inspirational leadership – truly care for their employees. They cultivate an atmosphere of cooperation and have a genuine interest in helping others. And, they inspire their team through a shared mission and a common purpose." These words encompass the many traits exhibited by our January Star. We are proud to announce our January Star is Terry Fauble, SVP/Location President in Lufkin.
Now possessing over 48 years of banking experience, Terry joined the Austin Bank team in 2014 to oversee the opening of the Lufkin office. A long-time member of the Lufkin community, Terry has a wonderful reputation and is focused on the growth of the Lufkin market. Francis Spruiell, EVP/Regional President, shares, "He leads by example. Terry is a great listener and takes abundant care with his clients and with our Lufkin team." She adds that he is a remarkable mentor to the young lenders in the region, always willing to share a story or two in business development meetings from his vast experiences.
Setting a positive tone for his office, Terry's caring leadership bolsters employee well-being, teamwork and engagement. He encourages all of the Lufkin team to bring in business and the group often works together to give back to the community on different projects. Melanie Shirley, Retail Office Manager in Lufkin said, "Terry is a very caring person. He truly tries to get to know each of us and our families. He has a big heart and is well-known within the banking community." An interesting fact about Terry . . . he is a numbers guy. He likes to make charts and spreadsheets to anticipate where the Bank and his office will be in the coming months and at the end of the year.
Terry and his wife, Karen, live in Lufkin. They have two married daughters and four grandchildren. Terry has served in his community through leadership and volunteer roles in many organizations, and he and his wife still attend community events to show their support. He has a love for baseball and served as a little league umpire for many years until recently retiring from that role.
"Customers respect Terry and come to him knowing they will get the best and most honest financial guidance. I respect his moral values and his unbending faith. Terry teaches me things daily and I am honored to get to work alongside him – learning all the way."
Melanie Shirley, Retail Office Manager, Lufkin
"When we opened the Lufkin office it was great to have Terry and his well-rounded background of banking. He is not only a good lender, but his prior background in retail functions is very helpful too. I enjoy working with Terry and appreciate all he has done to provide good leadership in Lufkin."
Pat Davis, SVP/Retail Market Manager, Garrison
"Terry does a fabulous job for Austin Bank. We could not have hired a better candidate when we moved to Angelina County. He sets goals and always has a working plan to obtain them."
Francis Spruiell, EVP/Regional President, Nacogdoches
"Not only is Terry a great supervisor, he has also been a mentor during the 6 years we have worked together. I admire his hard work and dedication to take care of all of our customers."
Diana Cruz, Loan Assistant, Lufkin