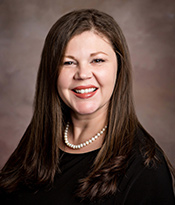 "A good leader inspires people to have confidence in the leader, a great leader inspires people to have confidence in themselves," said Eleanor Roosevelt. This quote is a perfect descriptor of this month's Star. A terrific team builder, both inside the Bank and in her community, she is well respected and admired. We are honored to introduce you to Tasha Childress, SVP/Retail Market Manager, in Cleveland and proud to call her our August Star of the Month.
Tasha joined Austin Bank in 2019 following a 17-year career with Prosperity Bank. Starting in an entry-level position, she worked her way up to branch manager before her departure. Coming to Austin Bank, Tasha was tasked with assembling a team to open the new Cleveland office and helping to build the new Southeast Region. She leads by example and is always the first to volunteer for a task. Her team is inspired to love their jobs and Austin Bank. Alex Rogers, Retail Office Manager for The Woodlands (and former member of the Cleveland team), shares, "Tasha has been a great mentor to me in my professional life. She is the type of leader you can come to with any question and is happy to guide her employees to a solution as a team." She goes on to say, "Tasha is not only a leader in her role here at the Bank, but also in our community with the various activities she participates in. She is the epitome of the Austin Bank service standards and the driving force behind the success of our retail team here in the Southeast Region."
As mentioned above, Tasha is an active member of her community and volunteers with numerous organizations. She received a Community Involvement Award from the Bank in 2020 for her service with River of Life. In addition, she serves as President of the Rotary Club; Treasurer of the local Salvation Army and the Cleveland ISD Education Foundation; and active member of the Greater Cleveland Chamber of Commerce, Cleveland Outdoor Expo and others.
Tasha and her husband, J.R., live in Tarkington with their two children, Blane and Braylin. They stay active with their children's activities (baseball, softball, basketball, football, and volleyball) and Tasha enjoys playing card games with family, hunting, fishing and enjoying "girls' weekends" with her mom, sister and friends. They are members of Liberty Church in Cleveland.
"What a blessing for Austin Bank to have found someone like Tasha. She combines her many years of banking experience with common sense and a very positive attitude. I so admire the strength and determination she has shown and how she incorporates that daily into interactions with her team, the Bank as a whole and the communities she graciously serves."
Linda Douglas, SEVP/Chief Retail Officer, Jacksonville
"Tasha's commitment to Austin Bank and the communities of Cleveland and Tarkington is extraordinary. She brings a positive 'can do' attitude to the office every single day and is a pleasure to work with."
Lowell Little, EVP/Regional President, Cleveland
"Tasha's strength and positivity are displayed in her ability to build and lead a cohesive team. She leads by example and never complains; she volunteers to learn new tasks and willingly takes on additional responsibilities. I am blessed to call her a coworker and friend."
Lisa McCoy, SVP/eBanking Manager