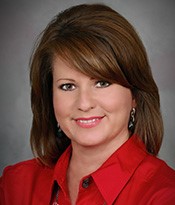 This month's Star takes the concept of "relationship banking" very seriously. Daily striving to know and understand her customers' particular situations and needs, she takes a constructive approach. While a customer may start out with one bank product, she offers additional products that can help customers attain their financial goals and adapt to changes in their financial or business lives. For her commitment to provide the highest level of customer service available to each of her customers, we are proud to recognize Millette Stroud, SVP/Relationship Manager in Whitehouse, as our April Star of the Month.
Millette's customers know they can reach out to her with any need. Recently a customer was out of the country and needed a service
provided through the Bank's My Rewards Premium Card. Unable to contact the service line due to poor cell service, the customer reached out to Millette via Facebook on a Saturday. Millette was able to contact the service line on his behalf and facilitate a service claim and
communicate back with the customer. Her assistance enabled her customer to receive the services he needed and led to a happy outcome for all involved. This is just one of the stories Millette's customers have shared.
Joining the Bank in 2015, Millette brought with her 30 years of lending and bank management experience. She previously worked as a Commercial Lender for BancorpSouth, and also held lending and management positions at the Tyler and Whitehouse offices of Regions Bank. She is a graduate of the American Bankers Association's National Commercial Lending School at SMU, ABA's Advanced Commercial Lending School and Leadership Tyler Class 26.
Millette and her husband, Chris, are long-time residents of Whitehouse. They share four grown sons, and have one grandson, Dean. They also have two beloved dogs - Elly (miniature Yorky) and Josie (chocolate Lab). Millette has always been very active in her community. She currently serves on the Red Cross - East Texas Chapter Board and the Tyler Chamber of Commerce Medical Committee. Past involvement includes roles with the Junior Achievement of Greater Tyler Board, Whitehouse City Council, Whitehouse Chamber of Commerce Board, Texas Equestrian Gala, and the Whitehouse YesterYear event. Millette enjoys travelling, particularly to the mountains to enjoy the outdoors, and spending time with her family and grandbaby.
"Millette has built a loyal customer base in the Whitehouse office based on her extraordinary customer service. She excels at attracting new loan and deposit business for the Bank, and her customers continue to refer new opportunities based on the outstanding service they receive. Millette is an exceptional employee and team leader in Whitehouse, always going the extra mile to assist her customers and coworkers."
Jeff King, EVP/Regional President, Tyler Cumberland
"Since joining the Whitehouse team in 2015, Millette has worked hard to serve her customers and offer them the products larger banks have with a small town touch. She is a great example of the Austin Bank values, whether in meeting customers' lending needs, answering deposit questions or serving the community. Millette does it all with respect, kindness and a commitment to providing excellent customer service."
Kara Fulmer, AVP/Retail Office Manager, Whitehouse
"Millette is one of the hardest working people that I know. She is passionate about her job and customers, constantly going above and beyond. She is most definitely a Star."
Libby Hickman, Loan Assistant, Whitehouse