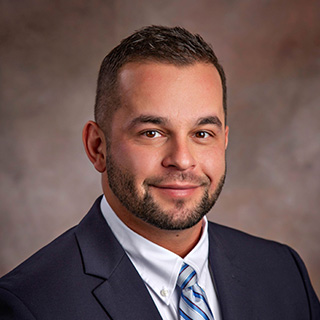 Despite only being with the Bank one year, this month's Star has made quite the impression on his colleagues and customers. We are proud to share that Daniel Wolfson, SVP and Market President for the Southeast Region, is our December Star of the month.
Coming to Austin Bank in November 2020, Daniel brought with him more than 18 years' experience in the banking industry. His knowledge of credit analysis, loan production and management has already proven to be an invaluable asset in the Bank's expansion into The Woodlands market. "Daniel works diligently to provide his customers with the best product for their needs and maintains lasting relationships with happy customers for years," shares Alexandria Rogers, Retail Office Manager in The Woodlands. "His knowledge base and superb interpersonal skills have been a great asset for our new location." Despite advances in technology, automation cannot replace the benefits of a relationship with your banker. Daniel is a wonderful example of this, providing great value to his customers through trusted financial guidance, timely responses to needs and a passion to help others succeed.
Daniel and his wife, Chrissy, live in Montgomery with their 18-year old twins – Kylie and Seth. He has a wide variety of hobbies and interests when not at the office including traveling, motorcycles, working out, sports and involvement with his children's events. Daniel is also very active in his community, currently serving as Vice Chair of Government Affairs with the Montgomery Area Chamber of Commerce; member of the Business Networking International Elite Players Houston chapter; and member of the Commercial Real Estate Association of Montgomery County. A neat fact about Daniel - when he was young, he and his family emigrated from Estonia, so he can speak Russian fluently.
"Daniel is proactive with his customers in determining their financial needs. He takes the time to get to know his customers and what they want, need and expect. He provides sound financial advice to his customers while assisting them in attaining their goals."
Jason Petersen, SEVP/Chief Lending Officer, Longview Oak Forest
"Daniel is an extremely dedicated, hardworking and motivated individual. He has been a tremendous addition to the Southeast Region and an integral part of the success and planned expansion of the region."
Lowell Little, EVP/Regional President, Cleveland
"Daniel hit the ground running when he joined Austin Bank. He is a pleasure to work with and I am excited for the growth he is bringing to the Southeast Region."
Tasha Childress, SVP/Retail Market Manager, Cleveland